As the crisp autumn breeze begins to rustle through the trees and the days grow shorter, it can mean only one thing: Halloween is just around the corner! This is the time of year when we get to unleash our inner creativity and transform our homes into spooky and enchanting spaces. If you're looking to make your home stand out and give your guests a delightful fright, you're in the right place. In this article, we're going to unveil five wickedly wonderful DIY Halloween home decor ideas that will have your home looking hauntingly beautiful.
So grab your cauldron of inspiration, light your favorite pumpkin-scented candle, and let's conjure up some spine-tingling decorations that will leave your visitors spellbound. Whether you're a Halloween enthusiast or a first-time decorator, these DIY projects are sure to elevate your home's ambiance. Let's dive in!
1. Easy-to-Make Pumpkins

Materials:
Orange construction paper or cardstock
Green construction paper
Scissors
Tape or glue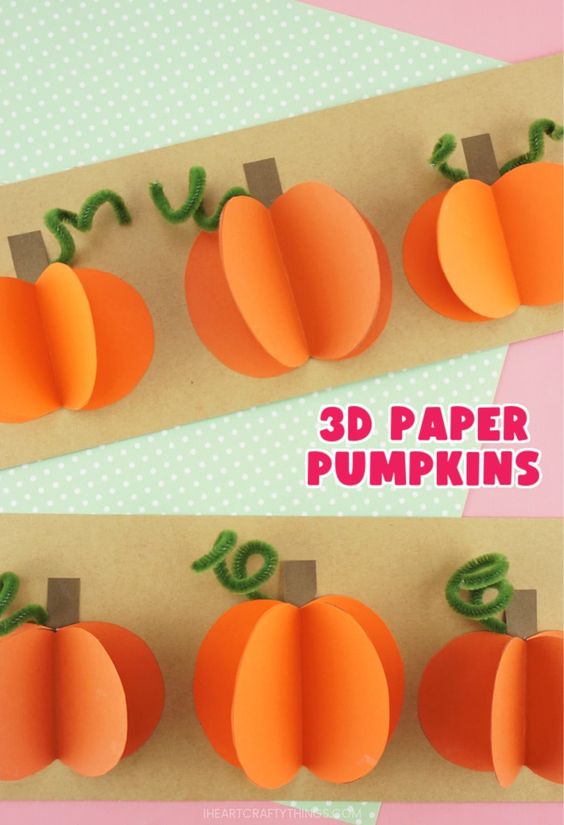 Making Process:
Cut out two identical pumpkin shapes from the orange construction paper or cardstock. These will be the front and back of your pumpkin.
Cut a small rectangle from the green construction paper to make the pumpkin's stem.
Fold each pumpkin shape in half.
Place the stem between the folded pumpkin shapes and secure them together using tape or glue, leaving the top open.
If desired, cut out facial features (eyes, nose, and mouth) from black construction paper and attach them to the front of your pumpkin to give it a spooky face
2. Balloon Spiders

Materials:

Black balloons
Black pipe cleaners
Googly eyes
Tape
String or thread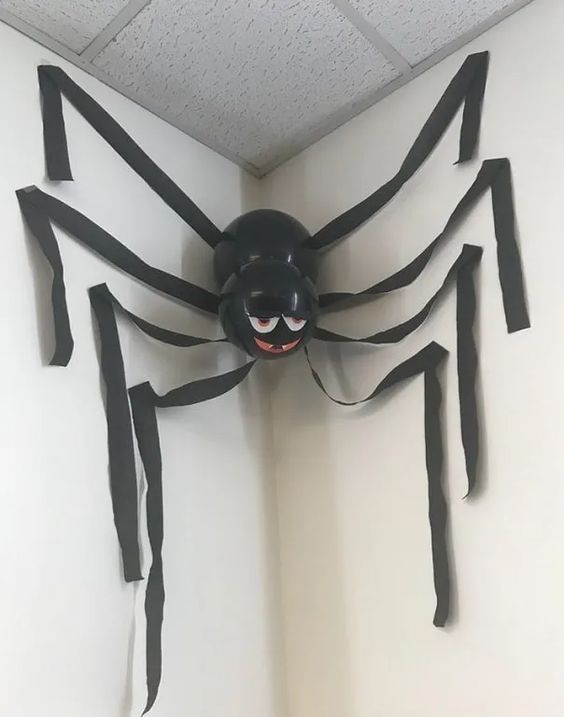 Making Process:
Blow up a black balloon and tie it off.
Bend several black pipe cleaners in half to create spider legs. Attach them to the tied end of the balloon using tape.
Stick googly eyes onto the front of the balloon to create the spider's eyes.
Attach a piece of string or thread to the top of the balloon, and hang your spooky balloon spiders from doorways or ceilings.

3. Witches' Cauldron

Materials:
Large black plastic cauldron (available at party supply stores)
Green tissue paper or plastic wrap
Battery-operated string lights
Plastic spiders and creepy crawlies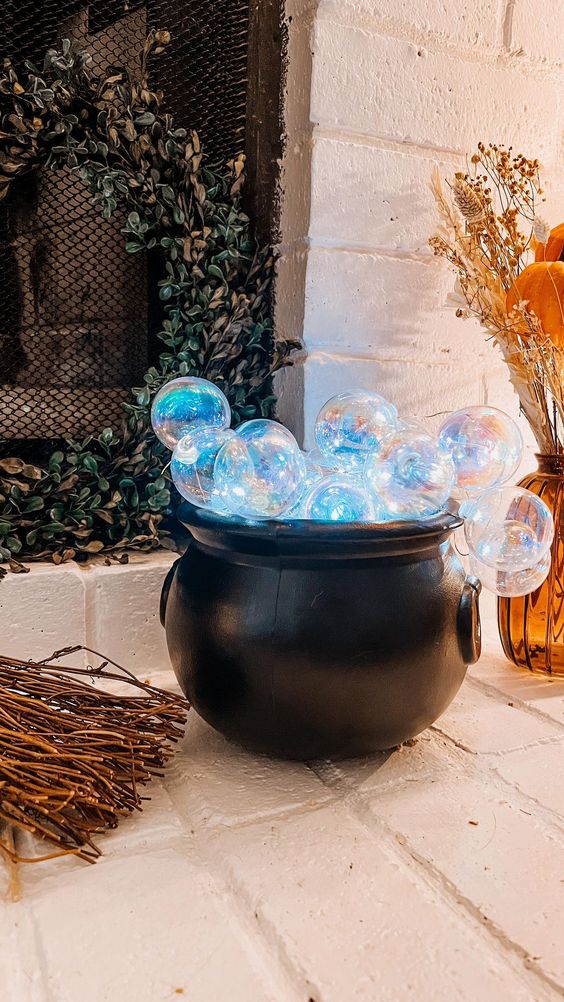 Making Process:
Line the inside of the plastic cauldron with green tissue paper or plastic wrap to create a toxic green brew look.
Place battery-operated string lights inside the cauldron to give it an eerie, glowing effect.
Scatter plastic spiders and other creepy crawlies around the cauldron for added spookiness.
You can place the cauldron on your front porch or near the entrance as a bewitching Halloween decoration.

4. Ghostly Curtains

Materials:
White sheer curtains
Black felt or fabric
Scissors
Thread and needle or fabric glue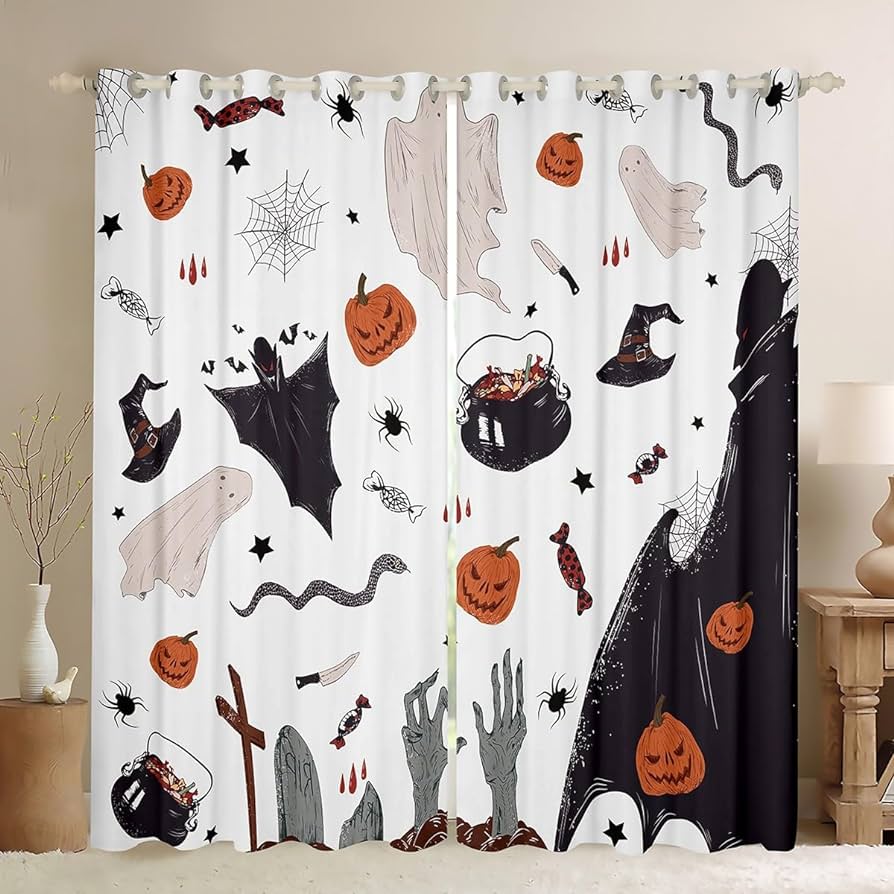 Making Process:

Cut out ghostly shapes from the black felt or fabric. You can make them as simple or elaborate as you like.
Attach the black ghost shapes to the white sheer curtains using thread and needle or fabric glue.
Hang the curtains in your windows or doorways to create a ghostly and whimsical Halloween ambiance.
5. Mummy Mason Jars

Materials:

Empty glass mason jars
Gauze or white fabric strips
Googly eyes
Glue
Battery-operated tea lights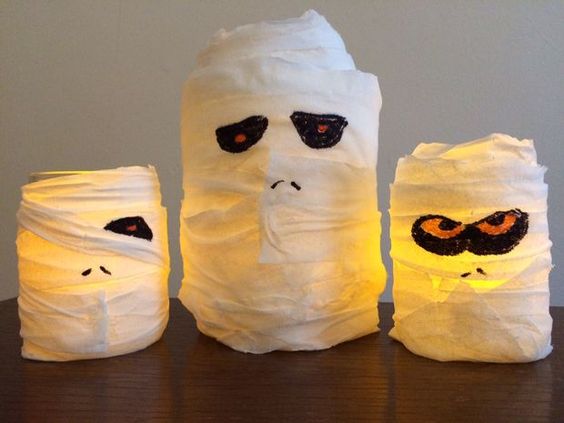 Making Process:

Wrap the gauze or white fabric strips around the mason jars, leaving gaps to resemble mummy bandages. Secure the ends with glue.
Glue googly eyes onto the front of the mummy jars to create the eyes peeking through.
Place battery-operated tea lights inside the jars and watch your mummy jars come to life with an eerie glow.

With these five DIY Halloween projects, you're all set to transform your home into a spooktacular wonderland that will delight and enchant your guests. Not only are these projects easy to make, but they also allow you to unleash your inner creativity and infuse your personal touch into your Halloween decorations. Whether you're hosting a Halloween party, welcoming trick-or-treaters, or simply celebrating the season with family and friends, these DIY ideas will make your Halloween festivities all the more memorable and fun.