I. Introduction
Selling a house by owner in North Carolina can be an enticing prospect, but it comes with its own set of challenges. Limited market exposure, complex legal procedures, and overwhelming responsibilities can make the process daunting.

However, there is a solution: EasyDigz, a platform that simplifies the FSBO (For Sale By Owner) experience, providing tools and resources to streamline your journey. With EasyDigz, you can create compelling listings, showcase unique features, and engage directly with buyers.

In this blog post, we will explore the challenges homeowners face, discuss the traditional approach of selling through realtors, and highlight how EasyDigz can revolutionize your selling journey.
II. Challenges For Homeowners While Selling Their Homes
Selling a house by an owner in North Carolina presents challenges that require careful navigation. Limited market knowledge may lead to uncertainty in pricing and understanding trends. To address this, homeowners can gather information and resources to confidently navigate the market.

Additionally, marketing and reaching a wide pool of potential buyers can be challenging for homeowners to sell their houses. Accurately pricing the property and effectively staging it to appeal to buyers requires knowledge and experience that homeowners may lack, potentially impacting the overall sale price and time on the market.
III. The Traditional Approach:
There are two ways to sell your house in North Carolina. The one is traditional way of selling your home while the other is the latest technological way to sell your home with ease just with a few clicks.
1. Sell home by the owner
When it comes to selling a house, one option that many homeowners consider is the traditional approach of selling their home by themselves. While this approach can offer certain advantages, such as saving on agent commissions, it also comes with its own set of challenges.

Homeowners must be prepared to handle tasks typically handled by agents, including pricing the property, marketing and advertising, conducting showings, negotiating offers, and navigating legal and paperwork requirements. It requires time, knowledge, and effort to effectively sell a home without professional assistance.
2. Sell with EasyDigz Online
Easy Digz is an online real estate platform that offers a hassle-free solution to sell your home quickly and effortlessly without the involvement of an agent. Our innovative platform streamlines the selling process, providing you with a user-friendly interface to list your property, attract potential buyers, and manage inquiries.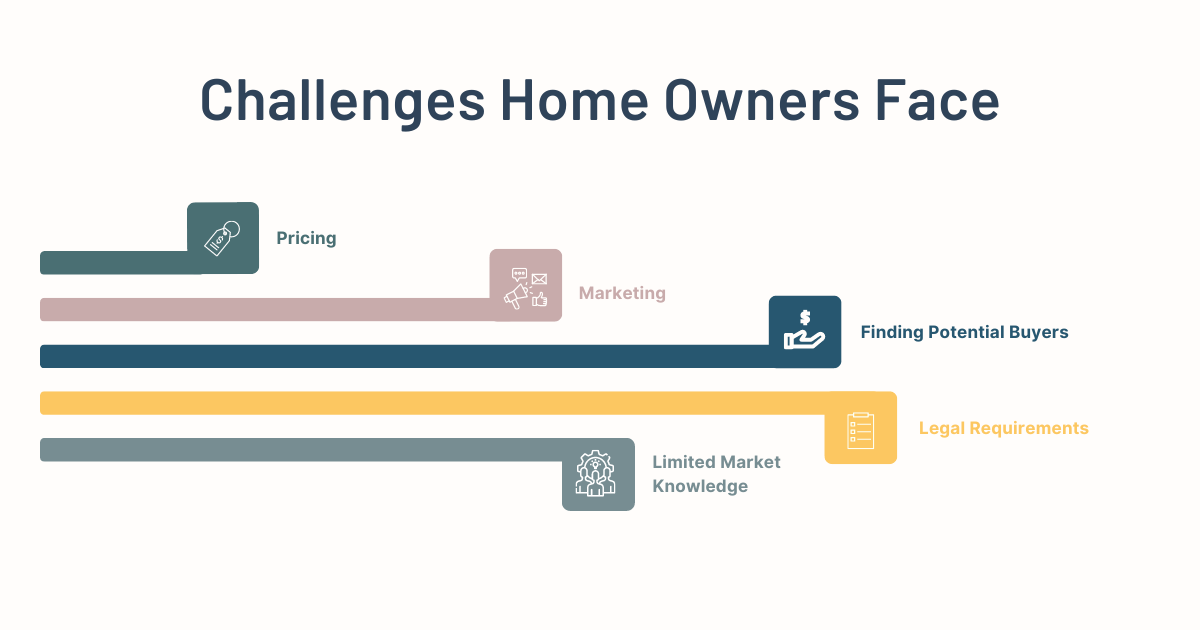 With Easy Digz, you can enjoy the convenience of professional guidance, extensive marketing exposure, and secure transaction handling. How EasyDigz works? Let's discuss this further.
IV. EasyDigz: Revolutionizing the FSBO Experience
Sell your house in a seamless and empowering way with EasyDigz, the innovative platform revolutionizing the FSBO experience.

EasyDigz is your ultimate companion, designed to simplify selling houses in North Carolina. With its user-friendly interface and intuitive tools, it streamlines the process from listing to closing.

With EasyDigz you can enjoy the benefits of maximum exposure through an extensive network and widespread listing distribution. Showcase your property's unique features and amenities with professional photography and virtual tours, captivating potential buyers.
Easy Digz Features: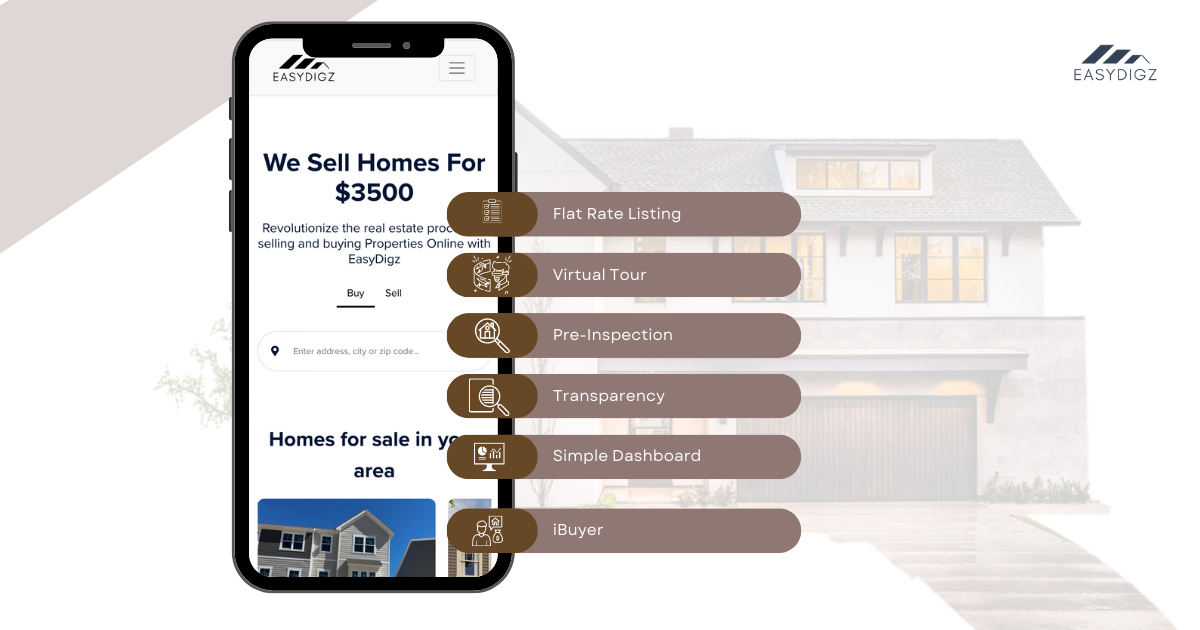 EasyDigz offers a range of features to simplify the process of buying and selling your property. EasyDigz provides a user-friendly interface and efficient tools to facilitate smooth transactions from listing properties to connecting buyers and sellers.
1. Advance Dashboard:
EasyDigz's open dashboard provides users with a centralized hub where they can easily manage their real estate transactions. Sellers can track their listings, monitor buyer inquiries, and biddings, and access important documents, all in one convenient location. The open dashboard ensures users have a clear overview of their real estate activities, making the selling process more organized and efficient.
2. Pre-Inspection Certification:
EasyDigz offers a valuable feature in the form of pre-inspection certification. Sellers can opt to have their properties professionally inspected prior to listing them on the platform. This certification provides potential buyers with confidence and peace of mind, as they can review detailed inspection reports and verify the condition of the property upfront. The pre-inspection certification feature sets EasyDigz apart by promoting transparency and trust between buyers and sellers.
3. Transparency:
EasyDigz prioritizes transparency throughout the real estate journey. Sellers can provide accurate and detailed information about their properties, including disclosures and any known issues, ensuring that buyers have a comprehensive understanding of what they are considering.

Additionally, EasyDigz encourages open communication between buyers and sellers, facilitating a transparent exchange of questions, negotiations, and offers. By fostering transparency, EasyDigz promotes a fair and informed real estate experience for all parties involved.
4. iBuyers:
EasyDigz integrates iBuyers into its platform, offering sellers an additional avenue to consider when selling their property. iBuyers make instant cash offers on homes, providing sellers with a convenient and fast option to sell their properties. With the iBuyers feature, EasyDigz expands the possibilities for sellers, allowing them to explore different selling methods and choose the option that best suits their needs.
5. Virtual Tours:
EasyDigz enhances the listing experience with virtual tours. Sellers can create immersive and interactive virtual tours of their properties, giving potential buyers a realistic sense of the space from the comfort of their own homes. Virtual tours provide a convenient way for buyers to explore the property's layout, features, and ambience, helping them make more informed decisions about scheduling in-person viewings. By incorporating virtual tours, EasyDigz embraces technology to elevate the buying and selling experience.
6. Flat Fee of $3500:
EasyDigz offers a flat fee pricing model, where sellers pay a fixed amount of $3500 for the services provided. This transparent and affordable pricing structure eliminates the need for hefty agent commissions, allowing sellers to save money while still benefiting from the platform's comprehensive features and support.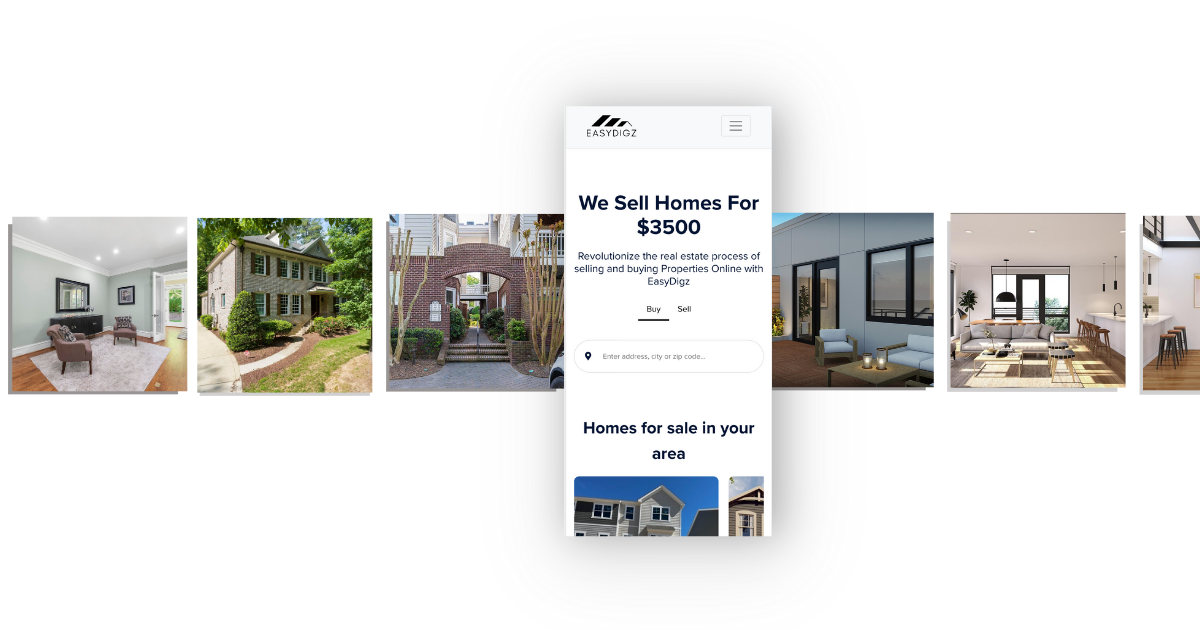 Sum Up
Selling a house by an owner in North Carolina may seem challenging, but with the right approach and resources, it can be a rewarding experience. By leveraging EasyDigz, you can overcome the obstacles faced by homeowners and take control of your selling journey.

EasyDigz combines an open dashboard, pre-inspection certification, transparency, iBuyers, and virtual tours to revolutionize the real estate process. Whether you are a buyer or a seller, EasyDigz's comprehensive features are designed to simplify transactions, foster trust, and enhance the overall real estate experience.

So, if you're ready to embark on the adventure of selling your house in North Carolina, remember that you have the power to succeed. Take advantage of EasyDigz and its innovative platform designed to simplify the FSBO process.

Empower yourself with knowledge, stay proactive, and embrace the exciting opportunities that await you as you navigate the North Carolina real estate market. The power is in your hands. Start your FSBO journey with EasyDigz today!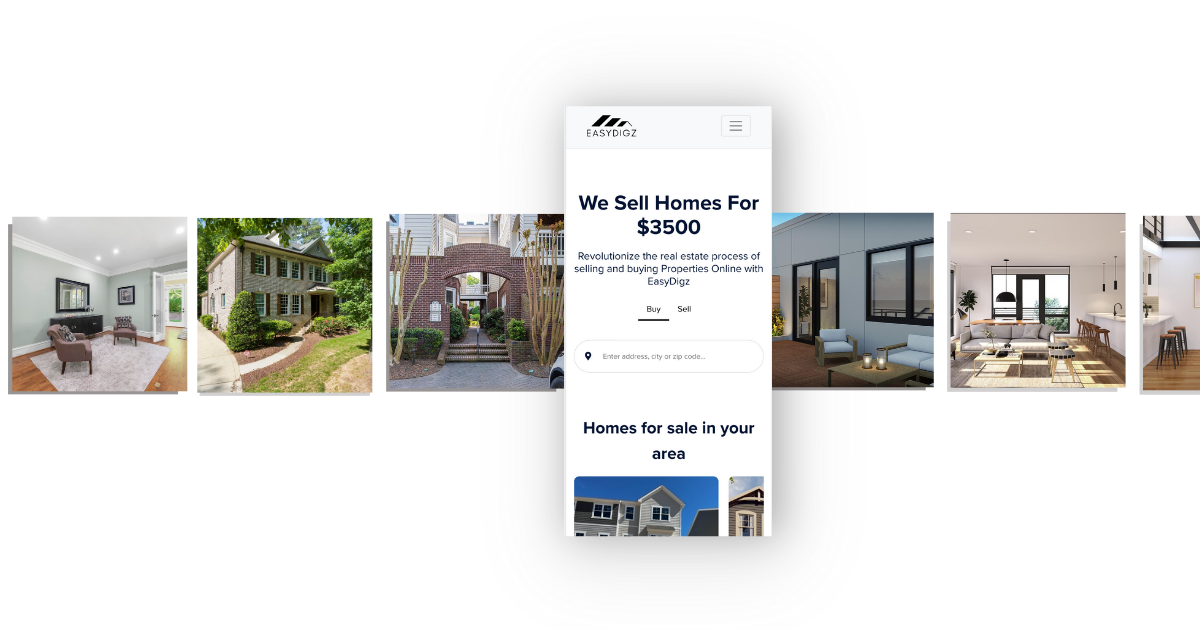 Start Selling With EasyDigz
Start Selling